Services and Solutions
Solutions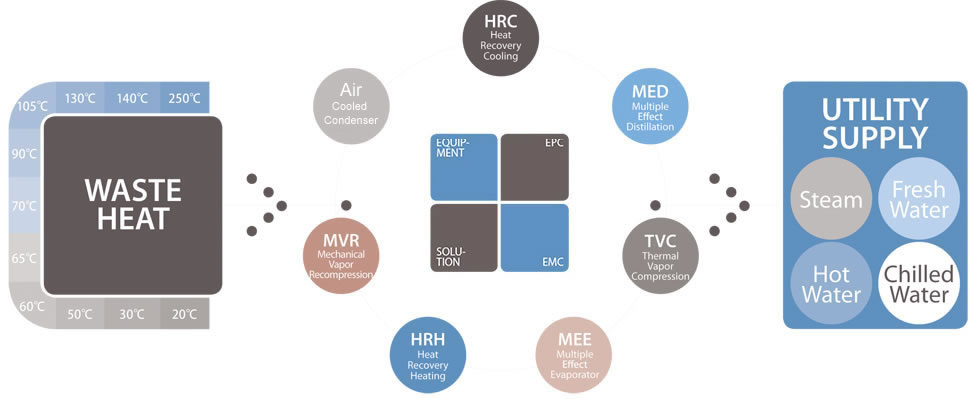 As a matter of fact, SHUANGLIANG is not just an equipment provider, but we can offer complete system solution and EPC (Engineering Procurement Construction) for our client. In selected countries, SHUANGLIANG will provide the customers with EMC (Energy Management Contract), so we will actually invest in the project and share the risks with our client.
I. Equipment Supplier
SHUANGLIANG is the first and only of its kind to apply the helium leak detection technology to the equipment inspection process and can guarantee 100% first pass rate of the finished equipment by using overall performance testing technology. With advantages in waste heat recovery technology, cooling technology, and heating technology, SHUANGLIANG is able to provide reliable steam-fired, direct-fired, hot water fired, flue-gas fired lithium bromide absorption chillers and heat pumps for use with industrial processes to save energy.
II. System Provider
As an experienced system provider, SHUANGLIANG has its own technology lab and an integrated international sales agent network. We provide a complete waste heat capture solution for either your heating or cooling applications. To be specific, our solutions cover the energy efficiency analysis, energy saving technology solution, system integration and optimization, and energy saving benefits analysis.
III. EPC (Engineering Procurement Construction)
When you choose SHUANGLIANG as your generator contractor for the waste heat recovery heating and/or cooling project, this means you are saving time spent in looking for pipe fittings and other trivial parts. Simply give the necessary financial support we need and let us deal with the rest. From the initial system design, through equipment manufacture and installation, to system commissioning, our EPC service covers all of them.
IV. EMC (Energy Management Contract) (Only in selected countries)
As one of the few listed companies in the absorption chiller industry, SHUANGLIANG has the budget and ability to provide customers with EMC services. By offering this service, we are actually joining in project investment, taking partial risks off customers, and sharing profits. In selected countries, we provide BOT-like services (Build-Operate-Transfer) which would greatly benefit you in project investment, management, energy savings calculation, and benefits analysis.
Principle
Customization, Seamless Cooperation, Guaranteed Result
Method
Statistical Analysis, process simulation, experience for reference, system operation
Economic Benefits
For the past 30 years, SHUANGLIANG has provided global customers with nearly 20,000 energy-efficient equipment sets, which brings huge electricity savings that otherwise would be generated by 15 coal-fired power plants, each with a capacity of 600MW.
Social Benefits
Every year, our waste heat capture technology helps save 22.5 million tons of standard coals and reduces 57.6 million tons of carbon dioxide emissions. This technology is the same efficient in carbon dioxide emission reduction as 160,000 acres of forests.